If you're driving to Germany, the quick, simple way is with PRINS FERRIES from Harwich. The big, white drive-on, drive-off ferries, Prinz Hamlet or Prins Oberon, will carry you overnight to Hamburg or Bremerhaven while you wine, dine and dance in bar, restaurant or disco, then relax in a comfortable cabin (many oeptp-mrhave their own shower and toilet). And there's a 'bonus' when you are three fare-paying passengers travelling together — your car, no matter what length, travels to either port (Ham¬burg or Bremerhaven) for only £16.65 return.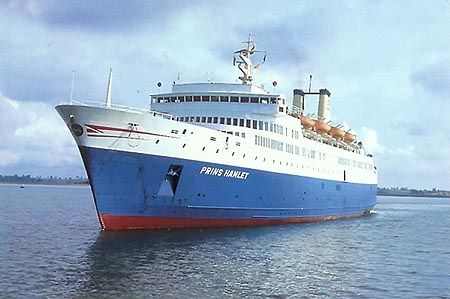 Sail straight to Norway with FRED. OLSEN-BERGEN LINE aboard their luxury drive-on, drive-off ferries. They have 5 sailings a week from Newcastle and 3 a fortnight from Harwich — the only direct routes. On board these fully stabilisedships you'll find super cabins and lounges,even dancing to live music ! Single fares (excluding meals) arefrom E39(children 4 to 15 half fare) and the charge for any car is £10. Fred. Olsen-Bergen Line also offer a programme of inclusive holidays in Norway. (56)These range from camping to 2-centre holidays. Details of fares and sailings list only.
The Irish way to Ireland and also the most convenient is with B & I LINE. You can choose a day or night crossing and sail city to city — Liverpool to Dublin or Swansea to Cork. If you're travelling by car, both the Liverpool and Swansea terminals connect with major motorways. If you're travelling
by rail, I have coaches to meet you and take you to the terminals. They even run a scheme with National coaches to take you from London's Victoria coach station direct to Dublin or Cork. They have money-saving .bargain fare offers, too.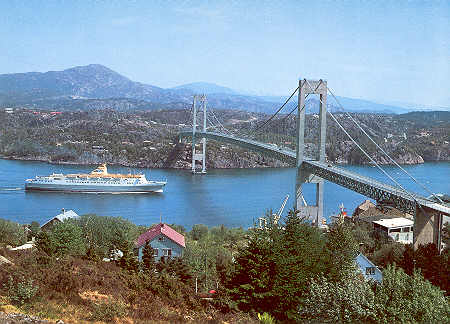 'Drive' to Spain by sea with AZNAR FERRIES (in association with PEr0 Ferries) and cP&Out hundreds of miles by road. There are sailings twice weekly from Southampton (Tuesday and Saturday) to Santander, a delightful, un¬crowded Spanish resort. Life aboard an Aznar ferry is luxurious. All cabins are air conditioned and most have their own shower and toilet. On board you'll find a swimming pool, cinema, bars, cafeteria serving buffet meals, dining room and dancing. Aznar have ferry services from Valencia and Barcelona to the Balearic islands, too.
Northern motorists! The forecast is that drivers going to the south coast will encounter heavy crowds and possibly high (car) temperatures. Whereas motorists heading to¬wards Hull will find the roads clear. And the evening will brighten up when you board NORTH SEA FERRIES. After a drink and dinner you'll enjoy a settled night. Then you'll have breakfast (both meals included in the price of your ticket) be¬fore landing early next morning in either Rotterdam (Europoort) or Zeebrugge. Roads from here will remain clear. Travel this easy way overnight, every night.

Only one company takes you direct to Brittany and that's BRITTANY FERRIES. You can sail from Portsmouth and Plymouth to St. Malo and Roscoff — both super holiday places themselves and close to every other part of Brittany. There are daily departures on both routes—now so popular that they operate year round. Whether you're headed for Brittany itself (ideal for a short winter break, too) or for the Dordogne, the Loire Valley or South West France, Brittany Ferries provide the quickest way of getting there.